SOG Knives & Tools was in attendance at SHOT Show 2019, and they had quite the assortment of blades to show off for the 1st time! Everything from fixed blades to frame locks to multi-tools were on display for fondling and future purchasing. We'll try to give you a short and concise rundown of everything new they had on display.
First on the list of new products from SOG Knives for 2019 is an ultra-compact scissors multi-tool dubbed the Snippet. This cute little multi-tool boasts 7 different tools to keep you prepared for your outdoor adventures. With a 5CR15MOV stainless steel construction and a feathery 2 ounces in overall weight, it looks to be a good everyday companion. The MSRP is $27.95 and you get these tools at your fingertips:
Precision Scissors w/ Finger Loops
Toothpick
Bottle Opener/Jewelry Driver
Small Cutting Blade
Fingernail File
Flathead Screwdriver
Tweezers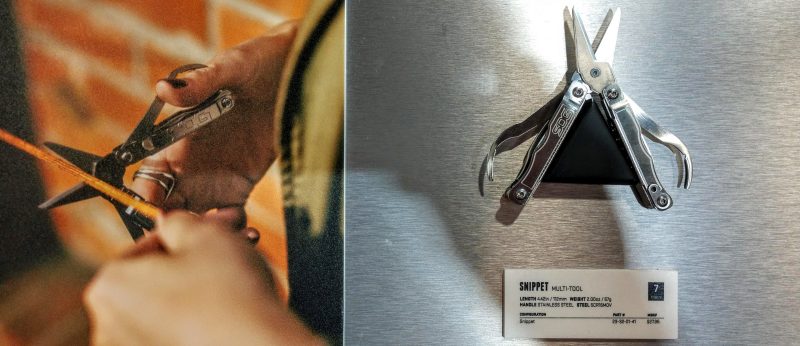 ---
Next up on the list of multi-tools are the Sync I Traveler and Sync II Traveler. The huge selling-point on both of these diminutive multi-tools is their TSA Compliance. Wherever your travels take you these can come with. The Sync I Traveler affords you the following tools at $55.95 for an MSRP:
Gripper
Ruler
Jewelry Driver
Scissors
3-Sided File
Small Flathead Screwdriver
Crimpers
Soft Wire Cutter
Pliers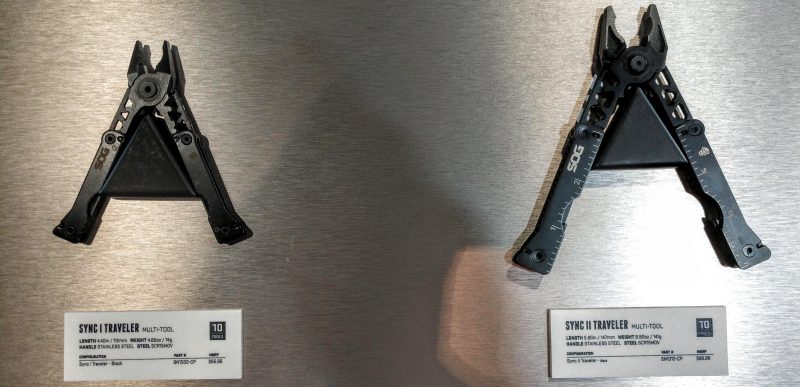 The Sync II Traveler is very similar in design, but you gain a few extra abilities through additional size and weight. The Sync I weighs 4.8 ounces while the Sync II tips the scales at 8.9 ounces. Both of these Travelers utilize 5CR15MOV stainless steel and when folded down can also be your new belt buckle. The tools you gain at the slightly higher price-point of $66.95 are as follows:
Pliers
Crimpers
Ruler
Scissors
Phillips Screwdriver
3-Sided File
Medium Flathead Screwdriver
Small Flathead Screwdriver
Bottle Opener
Soft Wire Cutter
Gripper
---
Moving into folding knives, SOG Knives unveiled a Terminus XR and a Terminus XR G10 to chase the everyday carry (EDC) knife market with a modern flair. Both of these Terminus knives have a sleek, urban aesthetic and allow for 3 different opening mechanisms: thumb stud, XR lock or kick feature. You have your choice of a carbon fiber/G10 handle or a strictly G10 handle for dexterity and looks. Across those options you can get Black (carbon fiber/G10), Crimson (G10), or Olive Drab (G10).
Both the Terminus XR and Terminus XR G10 weigh 3.2 ounces, have a 2.95″ CTS BDZ1 steel blade, and are fully-ambidextrous with a swappable belt clip. The biggest difference between the two similar knives is the price-point you are looking at:
SOG Knives & Tools "Terminus XR" – MSRP $77.95
SOG Knives & Tools "Terminus XR G10" – MSRP $55.95

---
On the left-hand side of the photo above is a new knife that should look awfully familiar. What you are seeing is the SEAL XR which is a SEAL knife in the large format of a folder. This knife unfortunately will not be available until July of this year, but it is coming. Like all SEAL knives from SOG, the SEAL XR will be extremely durable, have high corrosion resistance, and high edge retention. The rest of the expected specs, as provided by SOG Knives, can be read below:
3.9″ S35VN Steel Blade
Weight 8.2 Oz. | Overall Length 9.2″
Fully Ambidextrous Manipulation
Secure XR Lock Mechanism
MSRP $188.95
---
The final three knives we will look at are all iterations of frame locks we have seen before in some way. They all are no-nonsense, stainless steel handled folding knives at very affordable price-points. The first is the Aegis FLK (Frame Lock – Kick).
3.38″ 8CR13MOV Stainless Steel Blade
Weight 5.1 Oz. | Overall Length 7.9″
MSRP $32.95
The next knife up on display is the Flash FL (Frame Lock). This knife has a reversible, deep-carry pocket clip and a textured handle for improved dexterity. Its specs from SOG Knives can be read below:
3.44″ 8CR13MOV Stainless Steel Blade
Weight 5.25 Oz. | Overall Length 7.97″
MSRP $21.95
The final blade that SOG Knives announced as New for SHOT Show 2019 is the Escape FL (Frame Lock). This knife features a specialized sheep's-foot blade which is ideal for rope cutting. It, like the Flash FL, has a reversible, deep-carry pocket clip as well. The rest of the nitty-gritty specifications are as follows:
3.5″ 8CR13MOV Stainless Steel Blade
Weight 3.2 Oz. | Overall Length 8″
MSRP $21.95

---
SOG Knives & Tools definitely had a lot of new materials to showcase at SHOT Show aside from the rest of the knives and tools currently in their portfolio.  Out of everything they announced what are you most excited to try? Let us know your thoughts in the Comments below! We always appreciate your feedback.