Bismuth is a very dense metal. When mixed with steel, it can give hunters an ultra-dense pattern of pellets. Made specifically to ground upland birds, HEVI-Shot has released the new HEVI-Hammer Bismuth-Steel Upland Loads.
HEVI-Shot news @ TFB:
HEVI-Shot is proud to announce new HEVI-Hammer Upland loads. New for 2021, HEVI-Shot is offering 12- and 20- gauge options in shot size No. 5, or 7 shot to cover all the needs of hunters targeting large and medium upland game. HEVI-Hammer loads are manufactured using 15-percent high density bismuth (9.64 g/cc) and 85-percent precision steel. That small but mighty leading layer of bismuth over steel delivers nearly 50-percent more down range energy than pellets consisting of all steel at 40 yards.
HEVI-Hammer Bismuth-Steel Upland Loads
The new HEVI-Hammer Upland shotshells are available in several configurations. They're available in 12- and 20-gauge. Twelve gauge options include two 3-inch shells. The first carries a 1 3/8 ounce payload with number 3 shot. The second launches a 1 1/8 ounce charge weight. The 12-gauge shells throw a velocity of 1,350 feet per second. The 20-gauge options lose minimal velocity when compared with the 12-gauge options, coming in at 1,325 feet per second. HEVI-Hammer Upland allows 20-gauge shooters to choose between a one-ounce charge weight with number 3 shot, or a 7/8 ounce charge with number 5 shot. HEVI-Hammer Upland blends 15% bismuth with 85% steel. Even with a smaller shot size, patterns are more effective, packing more pellets than purely steel shells into the same pattern. These are 100% non-toxic.
SPECS
Gauges: 12, 20
Materials: Bismuth, steel
Payload: 1 3/8 oz, 1 1/8 oz, 1 oz
Shells per box: 25
MSRP: $32.99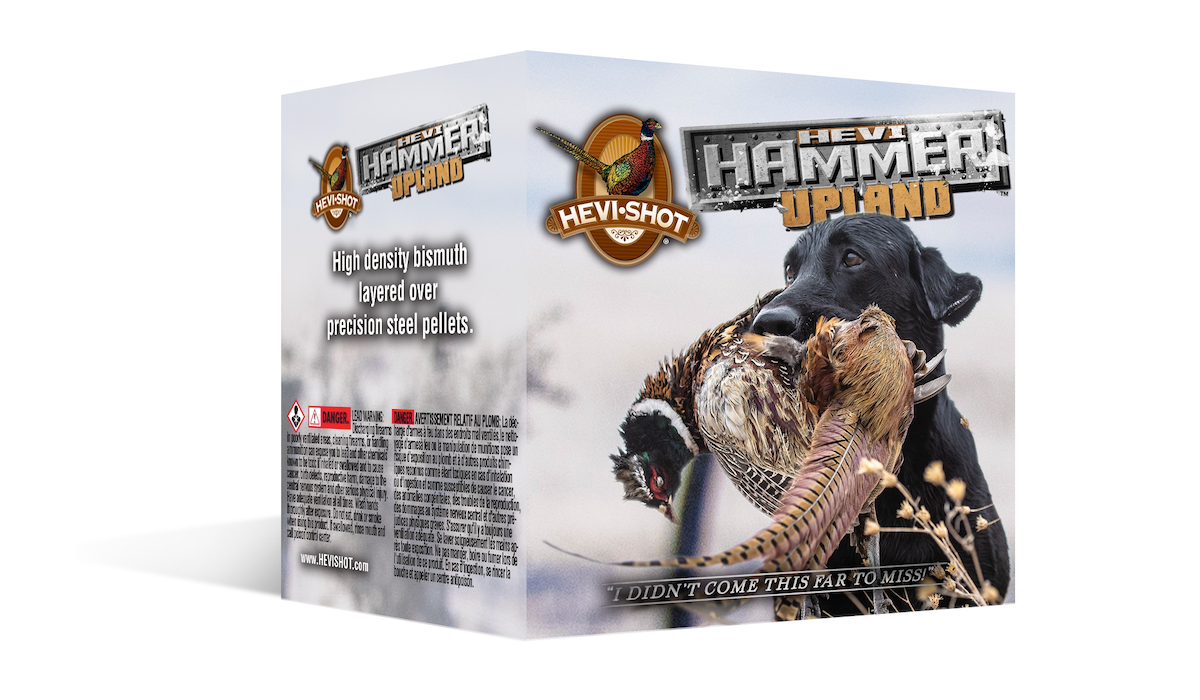 If you need more information, head over to the HEVI-Shot website. If you want continued updates directly from HEVI-Shot, be sure to like and follow them on social media. They can be found on Facebook, Instagram, Twitter, and YouTube. Take some birds home!