There have been many innovations in the muzzleloader industry in the past few years. SilencerCo brought us the "Maxim 50" — history's first (and only briefly 50-state legal) integrally suppressed muzzleloading rifle: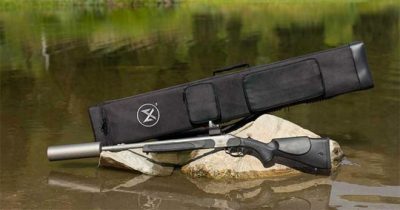 Next, there was the Federal FireStick, the paradoxically "breach loading" muzzleloader:
Yet, there's one key area where nobody seems to be innovating, and I can't understand why. Muzzleloader manufacturers — if you're reading this, why isn't anyone producing compact muzzleloaders?
The rest of the firearms industry is always trying to create guns that take down, fold up, are as short as possible, can fit in a backpack, etc., but if anything, muzzleloaders seem to be going the opposite direction — heavier, longer, less portable. The Traditions Pursuit G4 Ultralight is touted as the lightest muzzleloader in the world, but even this marvel of engineering sports a 26 inch barrel — hardly ideal for a pack or backcountry gun.
Where are the muzzleloaders with 16 inch barrels, folding stocks, and the other industry hallmarks of compactness and portability? Why doesn't THIS exist:
Don't tell me it's because of the lack of historical accuracy, as few states have true "primitive" seasons. In most places anything goes during muzzleloader season as long as the bullet goes in and out through the muzzle (hence the existence of "bolt action" muzzleloaders).
People could be concerned over the sharper recoil of such a light muzzleloader, but with infinitely customizable powder loads, this could be easily mitigated with a smaller charge.
Arguably, a shorter-barreled muzzleloader would have reduced range and muzzle velocity, as the longer barrel in a muzzleloader optimizes accuracy and range. 26 inch barrels are enabling muzzleloading hunters to achieve sniper-like accuracy past 200 yards. However, this reach is not essential in all hunting environments — in the heavily wooded deer habitats of the American northeast, most deer are taken at 50 yards or less.
In Which I Come up with a Plan
Dissatisfied with the absence of compact muzzleloading options and frustrated that the picture above only existed in my dreams, I decided to try a custom build. That's when I learned about the CVA Optima V2 pistol. After all, if every rifle is too long, maybe a 14-inch-barreled handgun will do the trick:
When the Optima V2 pistol was first released, it got stellar reviews, including this thorough and glowing write-up from Dr. Jim and Mary Clary at ChuckHawks.com. Founded in 1971 as "Connecticut Valley Arms," CVA is well known for the quality, workmanship, reliability, and accuracy of their Spanish-made guns. It's therefore no surprise that the Optima pistol was held to the same standards of excellence as the popular Optima rifle series.
However, within a few years, CVA's breach-plug pistol line mysteriously disappeared — the Optima pistol can only be found on CVA.com in cached pages of discontinued products. What happened? Nobody knows for sure.
But, after doing some digging, I discovered that the Optima V2 pistol IS still being produced, and is  imported and sold exclusively by muzzle-loaders.com through some arrangement with CVA. Most of the time, the Optima V2 pistol is backordered, but it's actually available at the time of writing with a very affordable MSRP of $348.00 . It should be noted that Muzzle-Loaders is a great company to work with, boasting an exhaustive inventory and friendly, knowledgeable staff. When I first got into muzzleloading, a representative from Muzzle-Loaders talked me through everything I needed to do to get started.
Coincidentally, at the time of writing, they're actually front-paging the CVA Optima pistol as a top product:
The Firearm
So, I started my custom build by purchasing a CVA Optima V2 pistol from muzzle-loaders.com. Here are the factory specs:
| | |
| --- | --- |
|  Caliber |  .50 CALIBER |
|  416 Stainless Steel Barrel |  14″ BARREL |
|  Black Composite Stock |  YES |
|  Bullet Guiding Muzzle |  YES |
|  Twist Rate |  1:28″ TWIST BARREL |
|  QRBP – Quick Release Breech Plug |  YES |
|  Solid Aluminum PalmSaver™ Ramrod |  YES |
|  100 Grain Capable |  YES |
|  Overall Length |  18.5″ |
|  DuraSight® Z2 Scope Rail |  YES |
|  3.7 lbs. Total Weight |  LIGHTWEIGHT |
|  Barrel Length |  14″ |
|  Lifetime Warranty |  YES |
The pistol comes with a factory-installed DuraSight® Z2 Scope Rail. It is also pre-drilled and tapped for a set of iron sights, which you can also conveniently purchase from Muzzle-Loaders. I planned to mount a red-dot, but I picked up these irons as a backup, and hoping someday to figure out how to get a co-witness setup.
The Optic
I outfitted the pistol with a Crossfire Vortex 2 red dot, in the low-rise configuration. This is my personal ergonomics preference, but it also corresponded with my goal of using the pistol as a pack gun. The low-rise setup means less snags and bangs going in and out of a bag: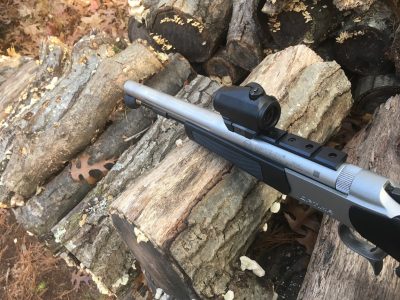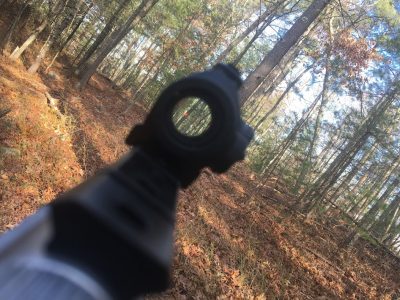 The Grip and Furniture
The downside of a pistol is, of course, the lack of stability — but I figured there was a way around this. Sure enough, after some research, I found a company named FarrowTech that produces a 3D-printed aftermarket pistol grip for the CVA Optima V2. It features a MilSpec buffer tube attachment:
I did have some concerns about using a 3D printed grip on a sharply-recoiling firearm, but it's important to note that farrow.tech prints these grips using nylon, the strongest (and least accessible to hobbyists) type of 3D printing plastic. I've now put many rounds through my CVA pistol with this grip attached and have no concerns for it's durability. Since everything weakens over time, I may overlay it at some point in the future with a thin layer of fiberglass and resin for extra strength — an option to consider for anyone concerned about a 3D printed gun piece.
Once the new grip was on, it was a simple task to attach a buffer tube, stabilizing brace, and single point sling: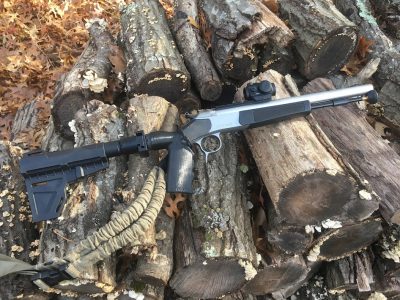 For extra portability, I connected the brace to the pistol with UTG's folding brace adapter — a cheap, but solid aluminum alternative to expensive folders. The UTG adapter can be cheaply made because it's not a true AR adapter — there's no hollow channel for the recoiling bolt. It's simply designed for applications such as this when a buffer tube is being repurposed or used solely for weapon stability: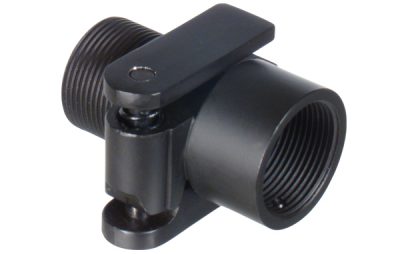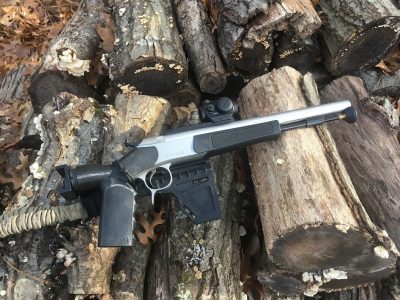 The Results
With the attached optic, the whole setup weighs five pounds five ounces: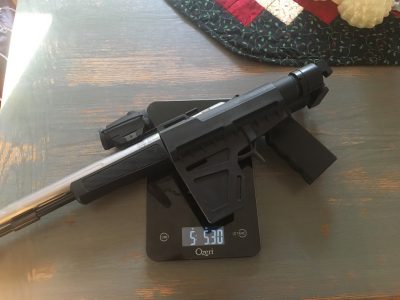 . . . and disappears easily into a small hunting pack: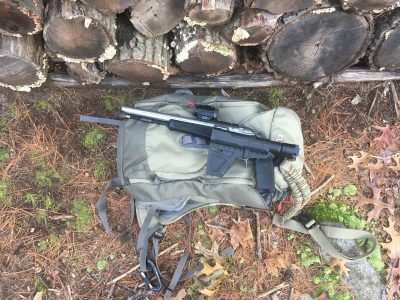 According to my research 90 grains of powder is the ideal load for this barrel length, so that is the charge I consistently measure out. I sighted in at 50 yards, and had no trouble ringing 9″ steel plates up to the 80 yard limit of my range. Here's a hypnotic video of slow-mo powder burning on a powdery day:
I was extremely happy with my setup. I'd gotten something powerful, accurate, and small enough to easily drop into a pack en-route to a hunting site. Until someone produces my dream muzzleloading pack gun, this will do just fine: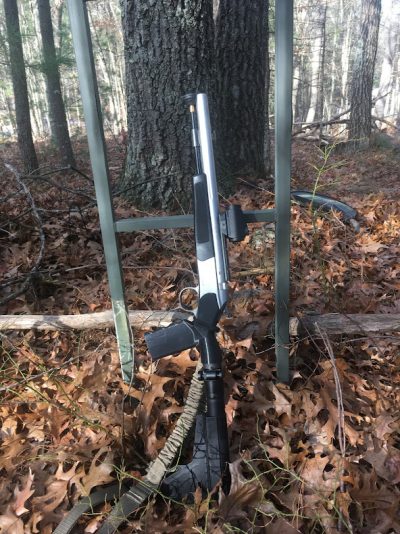 To add to the success of this compact muzzleloader: Last month, I took my CVA Optima V2 pistol hunting and shot an 115-pound doe on the second day of muzzleloader season at 30 yards: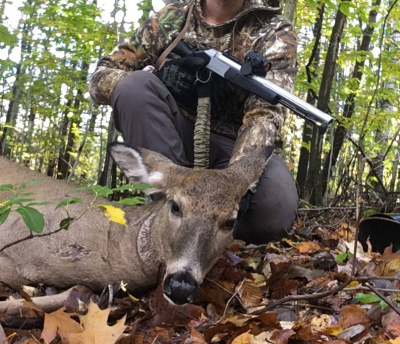 ---
Editor's Note:  This has been reposted from OHUB's author Jordan Estrada