Welcome to our recurring series of "Curious Relics." Here, we want to share all of our experiences, knowledge, misadventures, and passion for older firearms that one might categorize as a Curio & Relic  – any firearm that is at least 50 years old according to the ATF. Hopefully along the way you can garner a greater appreciation for older firearms like we do, and simultaneously you can teach us things as well through sharing your own expertise and thoughts in the Comments. Understanding the firearms of old, their importance, and their development which lead to many of the arms we now cherish today is incredibly fascinating and we hope you enjoy what we have to share, too! It only seemed right to kick this off with John Moses Browning's FN 1900, the great grandfather to all modern handguns and the first to feature a sliding action.
This article was first posted  on TFB's sister site AllOutdoor.com by Sam S. Check them out.
A fitting start to a segment I have been looking forward to for a long while now. I have owned this firearm for a few years now and had hunted one down as a gift to myself as a reminder of the time I  spent as a product service technician at FN America.
FN 1900 @ TFB
History Abridged: FN 1900
John Moses Browning as the firearm world well knows is responsible for some of the most magnificent innovations that we take for granted in this modern day. Things like pistols with a sliding action for example. Prior to 1900, granted there were few mass-produced autoloading handguns, but some examples would be the Borchardt C93 with a toggle action, and the Mauser C96 with a short recoil action. In 1897 the birth of a handgun that kicked off a carry gun craze was on its way with John Moses Browning going to visit Colt in hopes they would buy his design.
Surprise! Colt was not interested in Browning's design this time around for the fact that it was a straight blowback action and it was more of a pocket gun of sorts rather than a potential military sidearm. No one should blame Colt for its missed opportunity because who would have known that the modern pocket gun would be such a desired thing at the turn of the century. Another fine minded fellow by the name of Hart O. Berg was on a business trip from FN to look into US manufacturing processes with the intent to satisfy FN's want to produce bicycles after FN had lost its ownership of military contracts to Mauser (or what would become Mauser).
The circumstances of how Browning and Berg met while on their trip around Connecticut are unknown. What is important is that Browning was kind enough to lend Berg his prototype to bring back to FN. When the engineers at FN put in some time at the range they were figuratively blown away after the gun functioned flawlessly for 500 rounds straight. By today's standards that is a rather pathetic test but if you look at it from an 1890's era standpoint that is absolutely astonishing. On July 17th, 1897 John Moses Browning signed a contract with FN and began a long relationship with the company which would repeatedly make history!
The contract with FN was to produce mainly for everywhere, but the US and Canada since Browning had contracts with Colt that dominated that chunk of the world. This is why today these guns are not a common find in North America especially the initial 1899 model. It should be mentioned that along with a revolutionary pistol, Browning paired it with his newly designed 7.65 mm Browning Short cartridge. This cartridge would later come to be known as .32 ACP which would be a common self-defense cartridge until as late as the 1960s.
Notable Design Features: FN 1900
The FN 1900 was the first production handgun that sported a slide. It had a recoil spring much like modern pistols except it was situated above the barrel rather than below which gave a more inline bore access. This positioning gives the gun an over and under barrel look to it if the gun is cocked and I have seen movies depict the gun firing as such. The springs controlling the safety are set up in the same area that a mainspring housing would be on a later Browning design, the Colt 1911.
Variants: FN 1900
The first initial iteration of the gun featured in today's segment was the Browning/FN 1899 or at the time it was called "le Pistolet Browning." Some things that set the 1899 apart from the 1900 would be no markings around the safety indicating fire or on safe, black plastic/rubber grips that feature a small image of the gun, and an even smaller FN logo, the reinforced chunk above the trigger guard is half the size of the 1900, and were only ever rust blued or nickel-plated; no special engraving options (except for one engraved with pearl grips as a known example that was presented to Teddy Roosevelt who kept it in his nightstand). FN 1900 variants or finish options are as follows:
Rust Blued Finish
Nickel-Plated Finish
Checkered Black Plastic/Rubber Grips (FN Logo)
Ivory Grips
Mother of Pearl Grips
Gold Inlay
Six Tiers of Engraving
The Belgians were prideful of their FN 1900 and would more or less adopt it as a military sidearm. This adoption prompted the introduction of safety positions to be marked. Above the safety was "Feu" which is fire and beneath "Sur" which is on safe. Examples of safety positions being in different languages do exist although they are rare because they would have been by special request. The 1900 is known for its checkered black grips sporting only "FN" (introduced in 1905) and the reinforcement above the trigger guard is lengthier than on the 1899. The introduction of a lanyard loop and a cocking indicator was also born of its military adoption. The cocking indicator rests at the end of the rear sight groove and will be flush with the groove so long as it is cocked.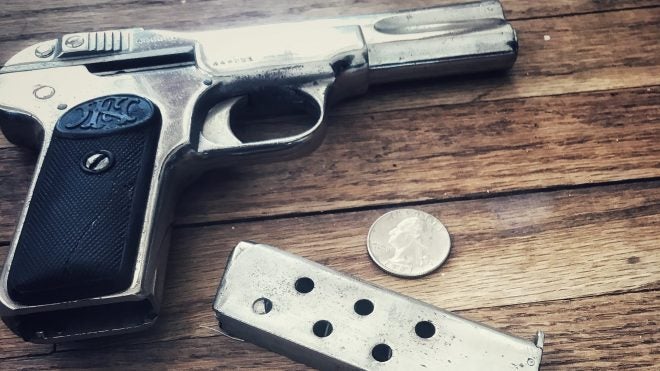 Specifications: FN 1900
The specifications gathered below are from my own personal copy of an FN 1900. Other FN 1900's may vary in things like weight, finish, and trigger pull. These guns are very old and are subject to all sorts of changes in their lives. To my knowledge, the only alteration to my personal FN 1900 is that it was re-nickeled at one point in its life whether it began that way or not.
CALIBER – .32 ACP ( .32 Automatic, 7.65 mm Browning Short, 7.65×17mmSR Browning)
WEIGHT – 1lb 5.6oz
BARREL LENGTH– 4 Inches
OVERALL LENGTH – 6.5 Inches
TRIGGER PULL – Roughly 10 Pounds
FINISH– Nickel
GRIPS– Black Plastic (FN Logo)
MAGAZINE – Push Forward Heel Release, 7 Round Box (Mine Does Not Like 7 So I Load 6)
SAFETY– Lever
SIGHTS– Fixed Rear Notch and Front Blade
ACTION– Straight Blowback
How do I know my FN 1900 has been tampered with? The nickel finish is heavy and when it was applied it covered a lot of the symbols and words on my gun. Things such as the safety positions are nonexistent, the "BREVETÉ-S.G.D.G" on the left side above the trigger guard is barely visible, and when I acquired the gun it was apparent that it was not reassembled properly and I gave myself a nice scar making the assembly correct.
End of Part I: FN 1900
Well, ladies and gentlemen, we are closing out the first half of a two-part segment on the FN 1900. Soon enough Part II will come along and I will come back in and link to it here. Till then keep an eye out for some more information on a truly fantastic firearm that does not get the notoriety that it deserves. I hope to get the chance to go over some more juicy details on the FN 1900 soon!
In closing, we here at AllOutdoor hope you enjoyed the newest segment and maybe even learned something you did not know before. So what do you think of this design? Do you want to go out and find one to have for yourself? Why do you think this firearm was so well received at the time of its appearance? As always, let us know all of your thoughts in the Comments below! We always appreciate your feedback.