Last year B&T won the new Sub Compact Weapon contract in competition with five other companies, with an initial order for 350 APC9K semi-automatic carbines. The United States Air Force is the next service to add the B&T APC9K to its list of firearms. They have ordered 65 pieces of 9×19 mm carbines with magazines and associated spare parts from B&T USA in Tampa, Florida. It's not known which configuration the APC9 will be in, but supposedly the APC9K PRO version.
The contract is called "Prototype Opportunity Notice (PON) for Sub Compact Weapon (SCW) System" which may indicate that this is an initial order for evaluation, with a potential for more. The value of the contract is $128,300. All the details of the contract are available here.
APC stands for Advanced Police Carbine. You can find the background of the development here (SAM.gov).

It is likely, but not mentioned or confirmed, that the new B&T APC9Ks will end up with the security personnel of the U.S. Air Force and that they may be replacing their existing Heckler & Koch MP5s.
Here's B&T's statement on the contract:
B&T, Inc. is proud to announce the United States Air Force has purchased B&T APC9K PRO platforms. These ultra-compact weapon systems are destined for specialized service and close personal protection use within the branch.

"B&T is honored to have our APC9K PRO selected by the United States Air Force. We're pleased to know that specially trained Airmen will be equipped with the finest equipment available to not only ensure their personal safety during challenging assignments, but contribute to the overall success of their mission," stated Jon Scott, Vice President of Sales, B&T USA.

The United States Air Force is the second branch of service to purchase APC9K PRO sub compact weapon systems after identifying an operational need for a highly concealable, sub machine gun. At less than 15-inches in length, the APC9K is optimized for low visibility carriage and discreet deployment; use in and around vehicles, and within confined spaces — all while delivering unsurpassed accuracy, controllability and ergonomics.

About the APC9K

The APC9K utilizes a hydraulic buffer system to drastically reduce felt recoil and muzzle rise and is the most compact version of the APC9 PRO line. The platform features functional updates to include dual auto-folding, non-reciprocating and ambidextrous charging handles, improved lower receiver ergonomics that include a side positioned bolt hold open/release, removable M4 compatible grip, and Magpul M-Lok accessory slots located on the forend. Additionally, the APC9K can be equipped to accommodate Glock 9mm magazines, SIG P320 magazines or proprietary B&T magazines, by simply switching the non-serialized lower receiver group.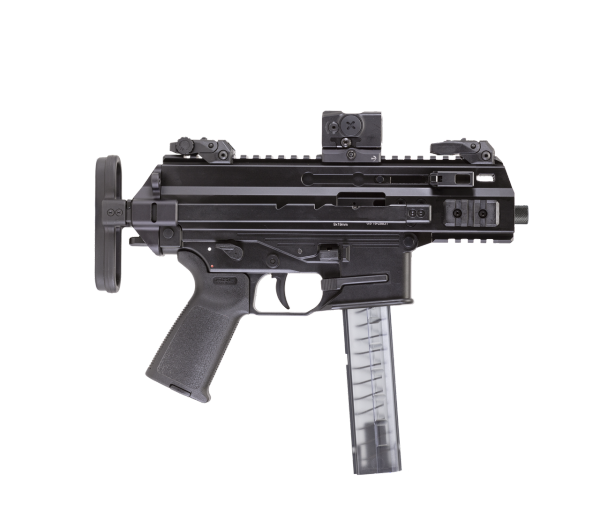 The Miami Beach Police Department is another user of the B&T APC9K.
As a coincidence, before finding out about this contract, I had just been to the shooting range with my own APC9K Pro. It's a great gun and I can only congratulate the Air Force on their choice. The integral hydraulic buffer makes it really smooth to shoot.
You can find B&T USA here: https://bt-arms.com/