The outbreak of hostilities between Armenia and Azerbaijan on the 27 September is not completely surprising; both countries have fought several short and brutal campaigns against one another since the collapse of the Soviet Union.
However, this surge of violence looks ominously like not burning out, as has previously occurred when the two sides engaged in hostilities. Instead the conflict looks to become the next area of competition between Russia and Turkey, who have already locked horns in Syria and Libya.
Background
Relations between the Armenians and Azeris have long been bloody. Both countries briefly achieved independence in 1918 after World War One and rapidly ended up fighting each over territory which both saw as historically and ethnically theirs.
This fighting rolled onto 1920, when both countries were annexed by the Soviet Union. This damped down hostilities, but even under the iron control of the Soviets occasional episodes did occur. In 1988 Armenians in the Nagorno-Karabakh enclave voted to leave Azerbaijan and join with Armenia. As the situation deteriorated tensions increased between Armenians and Azeri's in the region, leading to pogroms and ultimately full scale conflict by 1992 – the Nagorno-Karabakh War.
When the fighting ended in 1994, Armenia had taken substantial tracts of what had been Azerbaijan territory; not just the contested Nagorno-Karabakh enclave, but several surrounding regions. The costs  had been heavy though for both countries; an estimated 6,000 Armenians and perhaps as many as 25,000 Azeri's died.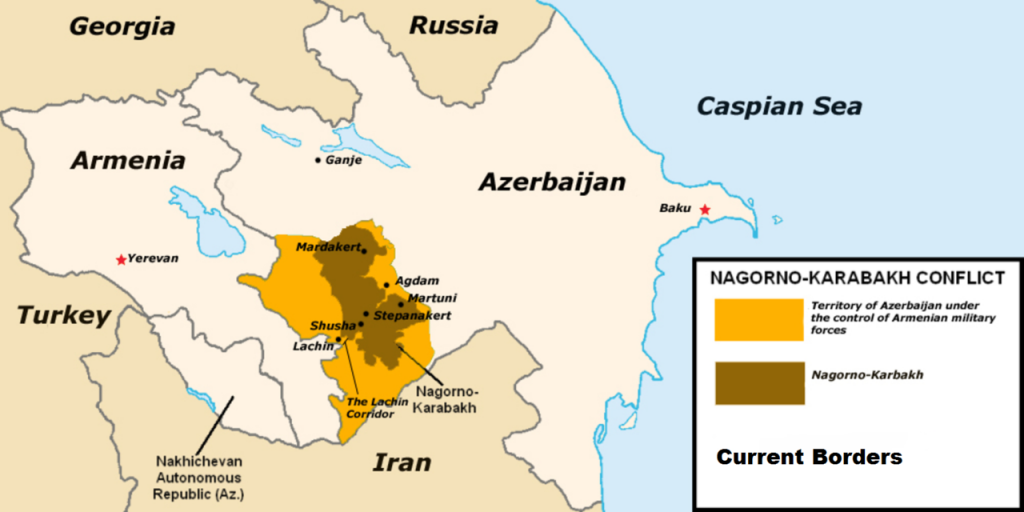 Negotiations with international mediators have continued since then. However, the reality on the ground was that ethnic Armenians now controlled the land that the international community considered legally to be Azerbaijan. This area officially became the internationally-unrecognised Republic of Artsakh, though in reality this is effectively part of Armenia.
Fighting has periodically occurred since then, including a four-day conflict in 2016 and fighting in July this year.
Small Arms
The Armenians and the Azeris are similar in the equipment they use, much of it legacy weaponry from the Soviet period. Though some other articles have come into their respective inventories the infantry still rely on their redoubtable Kalashnikov rifles as the standard weapon for both sides. Both 7.62x39mm AKM and 5.45x39mm AK-74M pattern rifles are in use.