It was merely 15 days ago that The Firearm Blog broke the news that Colt was bringing back their highly coveted snake gun in the King Cobra. Now that a few weeks have passed we have more information relating to this newly re-birthed revolver. The complete specification listing for the NEW Colt King Cobra can be read below, as presented by Colt:
Barrel Length: 3″
Capacity: 6 Rounds
Sights: Brass Bead Front
Frame Material: Stainless Steel
Frame Finish: Brushed Stainless
Grips: Hogue Overmolded
Action: Double-Action
Weight: 28 Oz.
The MSRP for the Colt King Cobra is currently positioned at $899. A firearm is always more than its simple list of components though, and that is why we made sure to shoot it at SHOT Show's "Industry Day at the Range." The good folks from Colt were offering .357 Magnum ammunition and we were glad to shoot it!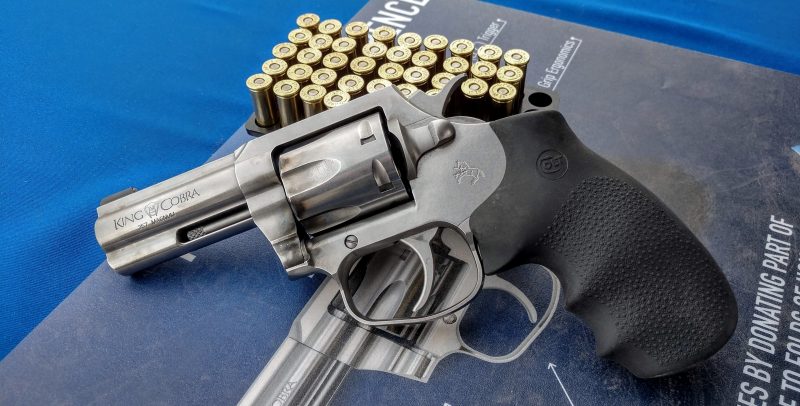 The Hogue Overmolded Grip gave good dexterity to the revolver since the .357 Magnum loads are more stout than a lighter .38 Special many of us are used to. The brass bead front sight ties in perfect to the aesthetic look of the Colt revolver, but it was a bit difficult to aim at distance (25 yards or further) on an overcast day. Accuracy wise, it was top notch. To be able to shoot steel plates at 25 yards off-hand was no problem at all. Overall, the wheel gun performed great in the short amount of time we had to fondle and shoot it. Whether the shooter appreciates the look of this snake gun and its sight picture is entirely up to them.
Some of our readers may own an older model Colt King Cobra and recognize the potential accuracy and quality. Some others might be contemplating a revolver like this for the first time. So what do you think?… Let us know your thoughts in the Comments below! We always appreciate your feedback.