In the first part of the article, I talked about some general advantages of red dot sights on an AK. I am sure they are obvious for seasoned shooters, but less experienced gun owners might find them useful.
In the second part, I want to talk about some of the common problems, available mounting solutions and training issues I've seen over the years. So here we go.
In order for a red dot sight to be effective, it must adhere to the following criteria:
A Red Dot Sight must be extremely reliable
The mount used for the sight must be secure and hold zero under any с

ircumstances

The shooter must be armed with

knowledge

: he must know his dopes and where exactly he should aim at different distances
Let's get into details.
Red dot sight must be extremely reliable
Over the years, I was very lucky to test a lot of different reflex sights, some of them were Russian, but most samples were made by large and recognised companies from all around the world. Here are the top 3 of rifle red dot sights I put together based on my personal experience.
Aimpoint
Nothing
Nothing
I know a lot of people would disagree, but that is just my personal experience. Evidently, Holosun reflex sights look very promising, but I think it takes more time to establish a reputation.
Trijicon RMR has a great reputation, "second generation" of MROs with updated lens (serial numbers 89,000 or higher) seems solid, but I have no personal experience with those optics, so it would be unprofessional to recommend them without any first-hand experience.
Is Aimpoint perfect? Not at all. There are two problems with Aimpoint optics that you have to keep in mind, first being the parallax. Three years ago, editor-in-chief of the Russian "Kalashnikov" magazine, Mikhail Degtyaryov did a very interesting test to find out how bad the parallax on Micro H-1 red dot is.
At a 100 meters (109 yards) he shot five 4-shot groups placing the dot on the different edges of the lens. The following picture explains the test and results very well.
The parallax shift was very significant and difficult to predict. A year later, Mr. Degtyaryov conducted another test, this time with Micro T-2 and results were completely different (photo below). Parallax shift occurred but was not that significant. Four 3-shot groups landed in 5 MOA circle making the shift almost negligible.
So, for Aimpoint Micro T-2 parallax is not much of a problem anymore, but there is something else you should keep in mind.
A few years back, I got a call from a buddy of mine. The connection was bad, but we managed to have a short conversation:
[Profesional Ninja] Hi Vladimir! Remember we had a conversation about red dots a while ago?
[Vladmir] Sure, I do! What happened?
[Profesional Ninja] I am in Syria right and you know what? This crap is only good for competition, a red dot will get you killed in rethe al world!!!
[Vladmir] OK, calm down. What exactly happened?
[Profesional Ninja] We were driving down the road and suddenly I saw several tiny red lights on the side of the road, in the ditch. I realised it was an ambush, we managed to get off the road. The red dots were visible through the front lens and that is how we spotted them. I will never use a red dot again in my life! Red dot will get you killed in the real world!!!
I was not with him that day and I don't know what exactly happened, but the matter of fact is – most red dots will give away your position at night if the dot setting is too bright. On my T2 the brightness setting has to be below "8" to completely eliminate the glare on the front lens. Another option is to use some sort of "killflash" cover, that makes red glare much less visible.
This problem is not unique to Aimpoint, so don't forget to change the brightness setting on your red dot when it gets dark. Especially if you're a professional ninja or just like to spend your time laying in the ditches of the Syria roads.
If you're aware of those issues and know what you're doing, I think an Aimpoint is the best reflex sight you can buy. I came to that conclusion after I witnessed testing of T-2, COMP M4 and Comp M5 red dot sights in Pakistan, in 2016. It was over 1.5 years before the official release of COMP M5. I was very impressed with this little optic that used common AAA batteries. Finding CR2032 batteries in many countries is quite challenging.
The red dot sights were tested the same way rifles were – they were frozen, they worked in extreme heat, dropped from various heights, buried in mud and sand and despite all that, continued working. And I just haven't seen similar performance with other red dot sights.
2. The mount must be secure and hold zero under any circumstances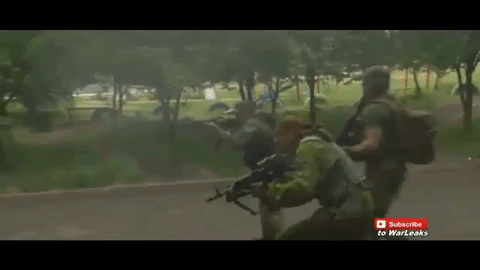 Welcome to the weird and wonderful world of AK optic mounts! Basically, there are 5 ways you can install red dot sights on an AK:
A) On the gas tube and upper handguard
There are two problems with mounting red dot sights on the upper handguard. First – the sight usually would be too high to cowitness it with iron sights, in other words, you won't be able to see front and rear sight through your optic.
In the above picture, "see-through" mount allows the shooter to see the ironsights. I personally think that it is a terrible setup, because you can't get any decent cheekweld. Also, if you can identify this handguard, please write its name in the comments.
Second problem – most upper handguards don't really give you a secure mount and you often left wondering; is it you who can't hit the target or you upper handguard is wobbling again.
There is an AK optics mount with a great reputation and very good track record that allows you complete co-witness. Obviously, I am talking about UltiMak AK-47 Optics mount that replaces your gas tube. 
It is a proven design, used by Rifle Dynamics, Travis Haley and many other industry professionals. Even Russian Special Forces tested it and concluded that "for the lack of better options, this seems to be the best solution".
I used it and think that for many situation it is a great solution. But I just don't like it. Putting a very expensive piece of electronic equipment on a very hot gas tube just doesn't make much sence to me. I just feel like there must be a better way
B) Red dot is mounted instead of the rear sight or rear sight tower
Those types of mounts are very popular in Russia. Most prominent brand is "Cochevnik", similar products are offered by Claw Gear and Strike Industries.
Another option are optics mounts that replace an entire rear sight tower, such as KOP mount by Sabrewerks and RST by Occam Defense Solutions. Both mounts require some gunsmitting for installation, but since they are press-fitted on the barrel at least you don't have to worry about them not holding zero.
But at the end of the day you lose you rear sight, and if an optic goes down, you're left with nothing but a non-adjustable notch. So if you're using a mount like this, make sure that you actually zero you new "ironsights" and train to shoot with them.
D) On the receiver cover
Receiver cover mount seems to be the most controversial option. Some people swear by TWS rail, others claim that it does not hold zero. Zenitco receiver covers are popular despite being very expensive, but to install it you must use another Zenitco product, quadrail handguard. Come on, who uses quadrail in 2018?
Other products in this category do not have a perfect track record and are typically very expensive. My experience with Kalashnikov R&D projects at Izhmash factory tells me that if you want to have a reliable railed receiver cover, you will have to redesign the receiver, like on AK-200 series.
E) On the side mount
RS Regulate side mounts
This is how Mihail Kalashnikov wanted people to mount optics on an AK. Optic is close to your eye, it does not shift the weight forward and if you're using a quality side mount it will return to zero every time.
Disadvantages are simple – with most folding stock AK you can't fold the stock while side mount is attached and most importantly, at least 90% of AKs in the world do not have a side mount. For example, in Iraq I went through several thousand AKs and not a single one had a side-mount.
But if you are a US gun owner, you can drill you receiver (in many countries, for example in Russia, that would be an "illegal modification"), install a side mount and forget about all you troubles. Especially since US customers have access to RS Regulate products, which are among the best mounts available.
3. Shooter must be armed with knowledge: he must know his dopes and where exactly he should aim at different distances.

Let's say you acquired a quality red dot sight, found a reliable mount, there is still one more step that you have to take. AK sights are certainly not the best, but the slider that alllows you to make precise elevation adjustments is hard to beat.
Once you install a red dot, you must zero it and understand the trajectory of your bullet out to 200, 300, 400, 500 meters. Also, make sure you check and confim you zero at all availible distances and learn to estimate the range if you're planning to shoot further than 150 meters.
I was pleasantly surprised to see that Aimpoint is trying to help shooters with that part, their shipping box contained a simple and effective drawing that explained dopes on a rifle equipped with a red dot sight.
Remember, only if all three criteria are met: quality red dot, reliable mount, sufficient training, a red dot will actually give you any advantage compared to a standard AK sight.
If even one of the criteria is not met, for example, your red dot is suddenly shutting off, or the mount is wobbling, or you do not understand how to zero it properly  – the red dot sight will do nothing but reduce your performance as a shooter.
---
Some of the items in this post are actually available on Amazon:
---
We are committed to finding, researching, and recommending the best products. We earn commissions from purchases you make using the retail links in our product reviews.
Learn more about how this works
.